Robert Scovill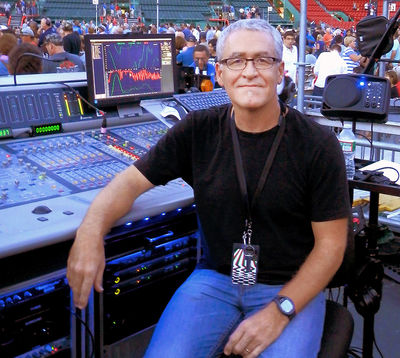 Robert is a 35-year veteran of professional concert sound and recording and has mixed over 3500 events in his career.
His engineering and production talents have been enlisted by a veritable 'Who's Who' of marquee music acts including Tom Petty & The Heartbreakers, Matchbox Twenty, Jackson Browne, Rush, Def Leppard, Prince and many others. Scovill's body of live sound and recording work has garnered numerous industry accolades including 6 TEC Awards for technical and creative achievement in sound reinforcement. Robert is a 6 time nominee, 3 time winner of the PLSN Parnelli Award for live sound engineer of the year and has been a multi-year nominee for Mobile Production's "Top Dog" Award along with being an inaugural nominee for the highly coveted Pensado Award for live sound excellence.
As the owner of Eldon's Boy Productions Inc. and MusiCanvas Recorders in Scottsdale, AZ, he offers full service mixing facility and mobile recording services. Robert is also a highly sought after consultant advising artists, sound companies and the house of worship market on everything from technology, workflows and acoustics for their companies and events.
As an educator, Robert has lectured throughout the world on concert sound and recording practices at seminars and trade shows, and is a regular contributor to numerous industry publications, blog sites and YouTube video series.
Robert's profile includes positions as a technical consultant for numerous top name manufacturers in professional audio, including Avid, EAW, Neumann, Audio Technica, Electrovoice, Servo Drive, and Alesis. He has held the title of endorser for numerous products, including Avid's VENUE live sound environment, WAVE's digital technology, Neumann Microphones, ATI Paragon, Intersonics loud speakers, Future Sonics ear monitors, and countless others throughout the years. In 2006 Robert served as guest speaker delivering the keynote address for the Annual AES conference in San Francisco. Robert currently holds the position of Senior Specialist for live sound and recording products for Avid Technologies and serves as a principle designer and contributor for their VENUE line of live sound consoles. Scovill is commonly regarded as the pioneer of the virtual sound check and multi-track archiving workflows for live sound.
Robert's hobbies include endurance racing, snowboarding, archery, pistol and rifle sports. He has successfully completed the Lake Tahoe North/South Swim, The Alcatraz Swim Challenge, The Great Wall Marathon and World's Toughest Mudder along with numerous other events. Robert is very happily married father of three.
Abstracts:
A unique Master Class with the award winning industry legend Robert Scovill
The Genesis of Virtual Sound Check
"Where Did 0 db Go?" Gain Structure in Digital Audio
Large scale live sound: The Tom Petty Tour